For the last year the imposing looking Shoreditch Town Hall has been home to The Clove Club. They serve a no-nonsense (no-choice) tasting menu and have won plenty of admirers since opening their doors.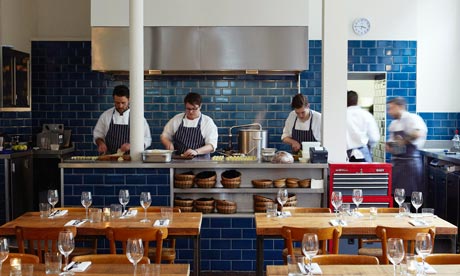 Isaac McHale heads up the kitchen, building on the success he enjoyed up the road at The Ten Bells. He's also worked at The Ledbury, Tom Aikens in London and Noma (if only for three weeks) and has really put his stamp on The Clove Club.
By the main entrance there's a window into a room containing hanging charcuterie. It's all made in-house and is widely utilised on the menu. There's even some hanging playfully at the bar and by the windows in the dining room.
I've read some reviews that portray the Clove Club as a hipster hang out but I don't think that's true at all. Perhaps it's just a generational thing for the reviewers. In fact, the place attracts a young, affluent foodie crowd and I don't see why they should automatically be branded as hipsters – even if the restaurant is in Shoreditch.
The main room is reserved solely for the tasting menu but there's a more informal menu on offer in the bar. At the near end of the dining room is an open-plan kitchen, bustling with chefs and adding atmosphere to what would otherwise be a fairly stark space.
We were seated at a two-table in the centre of the room and immediately felt cramped. The gap between our table and the next couldn't have been greater than three or four inches. That's fine for casual dining when I'm spending the thick end of £200 on dinner I don't expect to be practically knocking elbows with a stranger. Call me a miserable git if you will but it's a pet hate and it detracted from our enjoyment of the evening.
This was made worse by the fact that one of the people next to us was suffering from a heavy cold. The poor girl would doubtless have been tucked up in bed, were it not for the restaurant's strict (and extremely mean) 48 hour no-refund cancellation policy. To be fair, the staff gave them a discount and were very sympathetic but I still wished I'd brought a SARS mask with me.
A few appetisers came out in advance of the 5-course main menu. The best of these was buttermilk fried chicken, sprinkled with pine salt and served on a bed of pine needles. The presentation may have been a little gimmicky but each piece of chicken was crispy outside and succulent in the middle. We can see why this is a signature dish for them and I'd happily eat it by the bucket.
The first course proper was 'Raw Cornish Fish.' This was red mullet but they were using three different fish over the course of the evening, hence the ambiguous title. Some types of fish are ideally suited to being eaten raw but for me mullet tastes much better when it's cooked and the dish left me underwhelmed. Similarly 'pollock poached in brown butter with smoked roe and spinach' failed to really wow us. It was just okay, no more, no less.
We'd already decided to add on the optional langoustine course at a cost of £15 each.  The langoustines were so sweet and delicious that we ate them greedily with our hands, extracting every last morsel from the shell. Still, you expect a lot for £15 and I'm not sure the cost was justified for one larger than average langoustine.
The stand-out dish of the evening was the Hebridean lamb. I'd go as far as to say that it's the best piece of lamb I've ever eaten. It was perfectly pink and had a punchy, deep flavour. It was a decent portion size for a tasting menu too.
Served alongside the lamb, we had confit, glazed lamb ribs (delicious) and potato pancakes filled with lamb heart (unremarkable).
There were two sweet courses on the menu. The first of which, 'warm blood orange, sheep's milk mousse with fennel granita' was a refreshing palette cleanser. The main dessert event was undoubtedly the tarte tatin. It was deeply caramelised, rich and almost toffee-like in places. Utterly delicious and up there with the best.
It's obvious that a great deal of thought, innovation and processes go into producing the food at The Clove Club. Considering this, it's really not bad value for the number of courses and quality of produce.
Overall though, we found it to be a mixed bag on the night. There were some really high points and some misses too. We had three truly outstanding courses: langoustines, lamb and tarte tartin but that only gives the menu a 50% success record and one of these was an optional extra. We would perhaps have enjoyed another meat course instead of one of the fish dishes in order to bring more balance the menu.
Despite the quality of much of the food I don't find myself wanting to rave about this place like so many others have. While we enjoyed the meal, for a number of reasons this isn't somewhere I'm likely to revisit. That lamb though. Wow! I could eat that every day.
Tasting menu: £55 each (£70 including langoustine course). Our meal for two with drinks and service: £190
Website: thecloveclub.com
Address: Shoreditch Town Hall, 380 Old St, London, EC1V 9LT
Tel: 020 7729 6496
Twitter: @thecloveclub